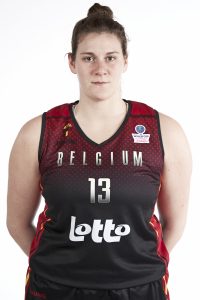 #13
Center
1m90
13/11/1996
Basket Lattes Montpellier (FRA)
Socials
Team history
2012-2014: Sint-Katelijne Waver
2014-2016: Castors Braine
2016-2017: Belfius Namur
2017-2018: Nymburk (TSJ)
2018-2019: Gorzow (POL)
2019-2020: Enisey Krasnoyarsk (RUS)
2020- 2021: Campobasso (ITA)
2021-2022 : Nadezha Odenburg (RUS)
2022-2023: Basket Lattes Montpellier (FRA)
Get to know Kyara
My second name is 

My shoe size is 

When I was a kid, I wanted to be 

This is what I do before I go to sleep every night:


If I was an actor, I would be 

If I could choose a statline, it would be (points/rebounds/assists/steals/blocks):


Who's the GOAT? 

I hate playing against 

The 2017 NBA champions will be 

What is the last picture you took with your phone?




 is the best singer of our team.

 would beat everyone in rock-paper-scissors.
Mark your 5 best shooting spots on the court