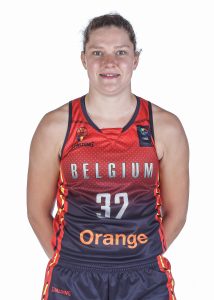 #32
Forward
1m80
14/03/1996
Kangoeroes Mechelen
Socials
Team history
2016-2017: Sint-Katelijne Waver
2017-2018: USO Mondeville (Fra)
2018-2020: Bembibre (SPA)
2020-2021 : Clarinos (SPA)
2021-2022 : Granada (SPA)
2022-2023: Kangoeroes Mechelen
Get to know Heleen
The last thing I ate was 

When I was a kid, I wanted to be 

If I was an actor, I would be 

One thing most people don't know about me is


My favorite pre-game hype song is 

Who's the GOAT? 

The 2017 NBA Champions will be 

Best Belgian Basketball player ever? 

If you could have personally witnessed anything, what would it have been?




 is the best dancer of our team.
10 seconds to play, your team is down by 2. A Time-Out is called, there is no foul penalty and your team will inbounds at midcourt. Draw your play.